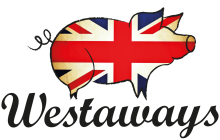 Westaways Sausages Ltd
Rydon Industrial Estate, Canal Way,
Kingsteignton,
Newton Abbot,
TQ12 3SJ
01626 333101
We are specialist sausage makers. We have an extensive range of great recipes; supplying fresh and frozen sausages to retail, food service and wholesale markets. We use only the freshest pork sourced from UK Accredited Red Tractor Farms, or equivalent welfare in our sausages. As a food producer we have a responsibility to tackle the plastic head on. It's not enough just to switch from black plastic to clear, or to say there's no alternative out there. That's why here at Westaways we worked with our suppliers to create a whole new packaging concept. What have we done to help? Our entire retail range is packed in sustainability sourced, recyclable cardboard trays. After a lot of research, we replaced our PVC overwrap film with a fully home compostable alternative. This is made of PBAT (Polybutyrate Adipate Terephthalate) & whilst this is still a type of plastic it will break down in your compost heap at home in just 57 days, yes, we've tried it. Better still it actually adds nutrients to your compost & leaves no harmful microplastics behind. We rolled this out in June 2020 & have since won the UK Packaging Awards Innovation of the Year for our compostable packs. We understand that this alone is not the solution to the plastics crisis that we as a country & the world are facing, but it's a step in the right direction.
| Award | Description | Category | Year | Result |
| --- | --- | --- | --- | --- |
| Sausages | Westaways Honey Roast Pork Sausages | Product - Sausages | 2023 | |
| Sausages | Westaways Honey Roast Sausage Meat | Product - Sausages | 2023 | Gold |
| Sausages | Westaways Traditional Hogs Pudding | Product - Sausages | 2023 | Gold |
| Sausages | Westaways Traditional Pork Sausages | Product - Sausages | 2023 | Silver |
| South West Sustainability Champion | | Special Award - South West Sustainability Champion | 2023 | Finalist |
| South West Sustainability Champion | | Special Award - South West Sustainability Champion | 2023 | Champion |